Before the official opening the club heard from Catherine Butterworth head of fundraising at St Johns Hospice. The club was told about the work the hospice does, including that it isn't just about caring but they do lots of outreach work including work on dementia. The Hospice is a very serious enterprise with a turnover of £4.2million annually. The Hospice received an outstanding rating by the CQC, an honour as only 1% of health providers reach that level. The hospice has been in operation for 30 years and look forward to providing the service for another 30 years. A third of the patients come from our area in the South Lakes. Lakes Lions gave money as part of the Hospice Angels campaign and it was mentioned that the campaign was doing very well and only had £5000 left to raise before Christmas to get to the very hefty target.
We then took some photos of every member except Fell mk2 with a cheque and Catherine which will be used on their Facebook page. I managed to sneak a selfie with Catherine: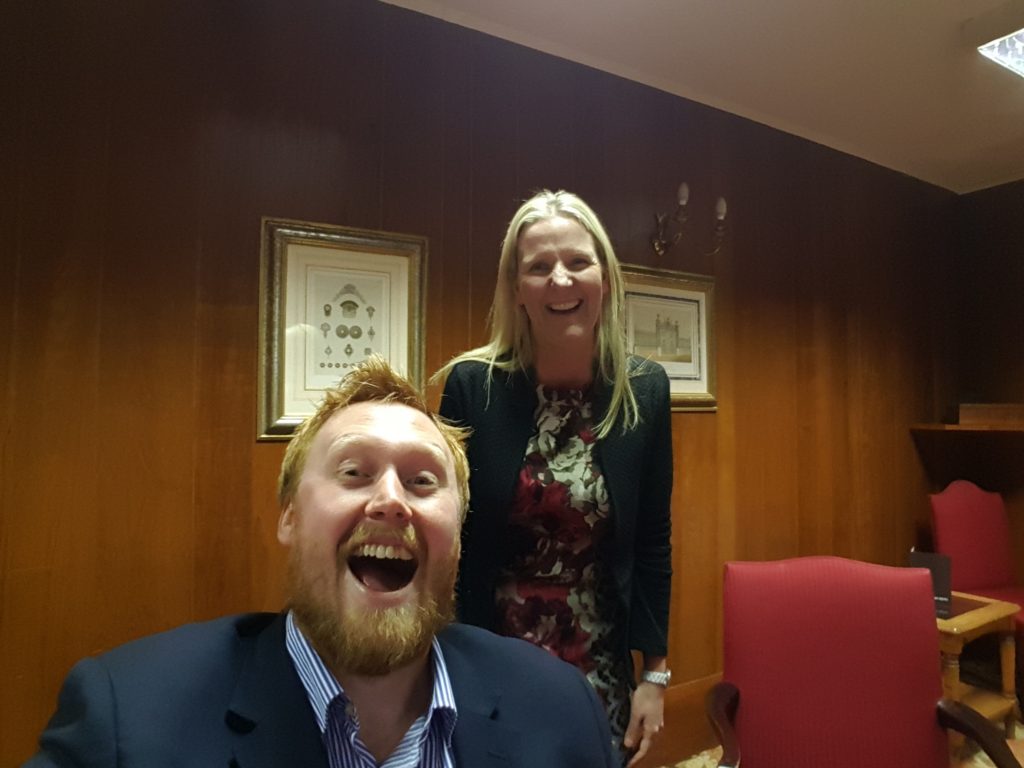 The meeting was then opened and we are missing Lion Laura. Hi Laura, I know you like to read this. Sorry you aren't here.
On the financial side we heard that we had income from Angel Inn sponsorship for the Jingle Bell Jog, entries to the Jingle Bell Jog and £75 from the wishing well
On the outgoing side we spent £125 for some Leo Banners, community transport for Staveley opera, £90 for a stall, some leo leaflets, some bibs and that for the Jingle Bell Jog and £500 sponsorship for Young Chris to run around abit.
Leos have done some bag packing in Kirkby Lonsdale for their service award. They will be at Marks and Spencer bag packing next week and then on the 17th December at Booths supermarket. We have four Leos and Phil is visiting schools recruiting more members.
Under Welfare Maggie told us about the condition of playground equipment in Staveley and how we might be able to help with their restoration. The club have donated £1500 towards the project. On a personal note I used to love playgrounds and believe they are a great part of growing up.
Old Chris spoke about another playground in Windermere which we giving £2000 towards. As mentioned in previous posts I specifically enjoyed what is now called Langrigg park but which was known to us as kids as Lions Park.
Steve surprised me with a notice that we have agreed to donate £500 to Bendrigg Trust for a table football table. I admit that I used to spend a serious amount of time playing table football in year 10 and 11 at school, I hope the people visiting Bendrigg get as much enjoyment as I used to.
Young Chris then told us about our wonderful Jingle Bell Jog that took place last Sunday. We had 107 registered and 30 or so turn up and register on the day. We raised £913 surplus this year which was a fantastic result. We still have another year's worth of Santa suits meaning that good returns will continue as we don't have to pay out for more yet. We had a excellent turn out of people in costumes, families, wheelchairs and dogs.  St Johns Hospice and Sight Advice South Lakeland raised a further amount selling teas and coffees. The money raised will go to various places including St Johns Ambulance Ambleside, Bowness and Windermere Community Choir, Windermere Lights Committee and Sight Advice South Lakeland.
The club will be at the Ja Windermere German Christmas Market next weekend with sweets and a wonderful tombola. Laura's excellent work in getting prizes was noted and should be celebrated.
Old Chris is off to the Low Wood tomorrow to meet about the Spirit of Christmas event. He told us about the transport arrangements that need to take place and how wonderful this community event for our local elderly will be.
There was then a long discussion about nothing which lasted for quite some time. Lions Chair Steve hit the table with his hammer and now we are moving on. I'll take a photo of Steve and his hammer so you can see what I'm talking about: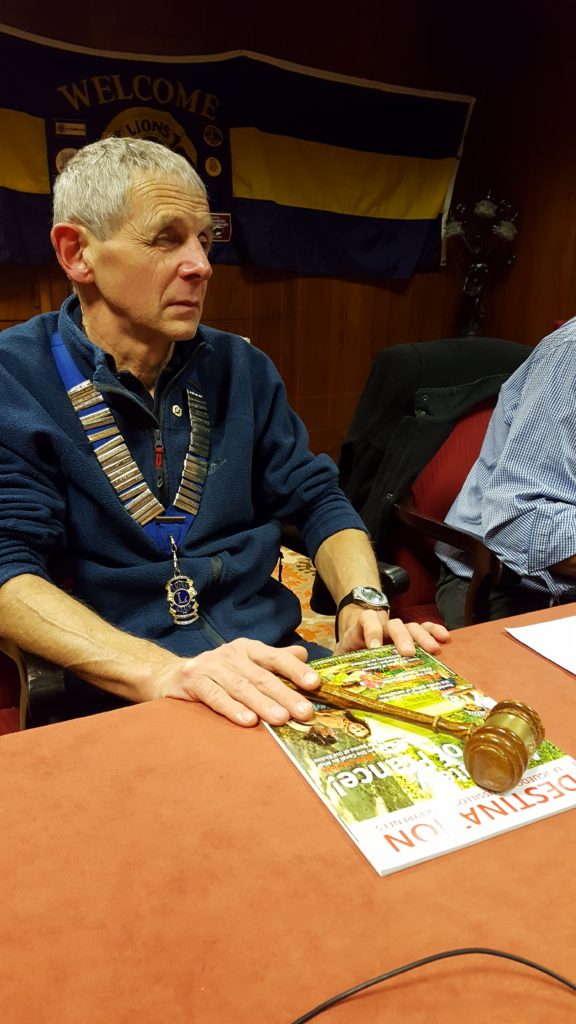 Lion Fell Mk2 then told us about supporting another youth football team. Lots of confusion ensued over the jackets that we bought last year. Basically it turns out that 14 year olds turn into 15 year olds after a year. That means that the 14 year olds we bought jackets for last year will now play in the 15 year old football matches because they are not 14 anymore but 15 and we can buy more jackets for another entirely different team that are 14 year olds right now but almost certainly will be 15 year olds by next year. The full cost of transport, jackets and bits etc will cost around £700 which we hope to share with Kendal Lions.
STOP PRESS – St Johns Hospice have just uploaded the photo they took onto their Facebook page! You can see it here
OMG after a brief intermission into sanity we are back on the ages of the footballers. I have made loud huffs that we are continuing to discuss 14 year olds and jackets.
Moving on Old Chris has a brochure for Limoux and told us about a nice visit from Peter Rowlands from Limoux who helped at Ambleside Lights. Members are very much looking forward to their visit to Limoux on 10th to the 15th May 2017.
Under PRO Ben told the club about getting some press in the Westmorland Gazette promoting the Jingle Bell Jog. The website continued to get lots of web traffic with the last two months being the best months yet because of people looking up the Jingle Bell Jog. Out largest audiences are still the UK, USA, France and Brazil!
The raffle was won by Steve who didn't know he had won because he couldn't quite see his ticket number. He donated the prize to the tombola. Lisa lost the raffle but said she wouldn't be at the next meeting to give a prize.
The post Christmas Christmas meal will be on the 15th January (my birthday) probably at the Burn How.
Our Lion Tamer told us that he put up a banner and wants to put more logos about the place. Young Chris asked for some new table cloths for our "ugly" tables. A few Lions are going to Liverpool to play with Bouncy Castles. Fell Mk2 asked for the Bouncy Castle for the 14th, 15th and 16th April 2017 for an egg roll.
For Any Other Business:
Ben (thats me!) informed the club that in China he doesnt have ginger hair but blond hair. It turns out that the Chinese only have the vernacular for brown/black hair (as is common there) and then blond hair for everything else. Ben also wanted it noted that Young Chris should be formally thanked  for the work on the JIngle Bell Jog.
Young Chris thanked the club for the donation the club has made for his running about.
Anthony gave a radio back to Old Chris and got angry that no one answered him when he was left alone in a park somewhere at some point. Anthony also proposed that we do a trial of 7.30pm starts for three months. This was passed, how exciting!
Old Chris told us that we didn't have many at Ambleside Lights and it was difficult. He also mentioned that our President will be giving a talk to the Evergreens about his many adventures.  He will receive a fee of a cup of tea and a biscuit which I proposed he share with the club.
The next meeting will be at the Smallwood because the Hydro is closing for refurbishment for a few months.
On Tailtwister there were fines for Young Chris for a lack of badge, Ben for hiding a £10 note and no badge, and Thia for no badge. Lion Old Chris proposed we fined our Tailtwister for wearing a green top that was offensive to the eyes.
As we closed the meeting at 21.56 I got this picture so you can witness Anthony in all his glory: