Trevor from Essex joined us this month. Trevor is up staying at the New Dungeon Ghyll and has been a Lion for many years.
Under apologies we had Maggie, Elsie, Chris Amos, Chris Burstow, Andrew and Laura. But then we decided that Chris Burstow should not be apologised for because he didn't give it to anyone.
We moved on to the minutes of the last meeting and Chris Burstow walked in. He had very tight clothing on and special gloves. Very sweaty too. I can only assume that he has been out fighting crime before coming.
Under correspondence we only had one piece which was an invite to an open day at Alice Escapes caravans which the club have been a big supporter of.
Income wise we got some money for car show entries and moved some money in to pay for our new super bouncy castle. Overall we have a reasonable amount of money.
The Leo's will be off on holidays to a campsite at some point this summer which sounds good.
Lion Chris Amos visited the Goodly Dale Alms Houses. Chris was shown round after the club had been approached For some support. The club are going to support the Alms Houses with some new windows which need replacing. The club are very keen to support this worthwhile cause.
Noel told the club about an event on 12th May at Brockhole called Wheels for All which is about inclusive cycling. Noel thought we might be able to get them to the car show too.
Under Almoner we decided that Laura would indeed be having a child after Noel asked if she knew what she was having.
The Lakes Classic Car show sounds fantastic with lots of traders coming including paella, ice cream, beer and sausages. We are still looking for sponsors although we have secured some fantastic sponsors including Progression Solicitors and Rathbone Investments.
Peter told the club about the upcoming festival of fun. Entertainment and DJ have been booked, three bouncy castles will be there as well as a potshy. The dates are 29th and 30th July, 5th, 6th, 12th and 13th August.
Fell mk2 (who should probably be promoted to mk1 because he is President next year) told the club about feather banners. I got distracted by his trouser flies being down. Took a photo. Not sure if he will be angry about me doing that.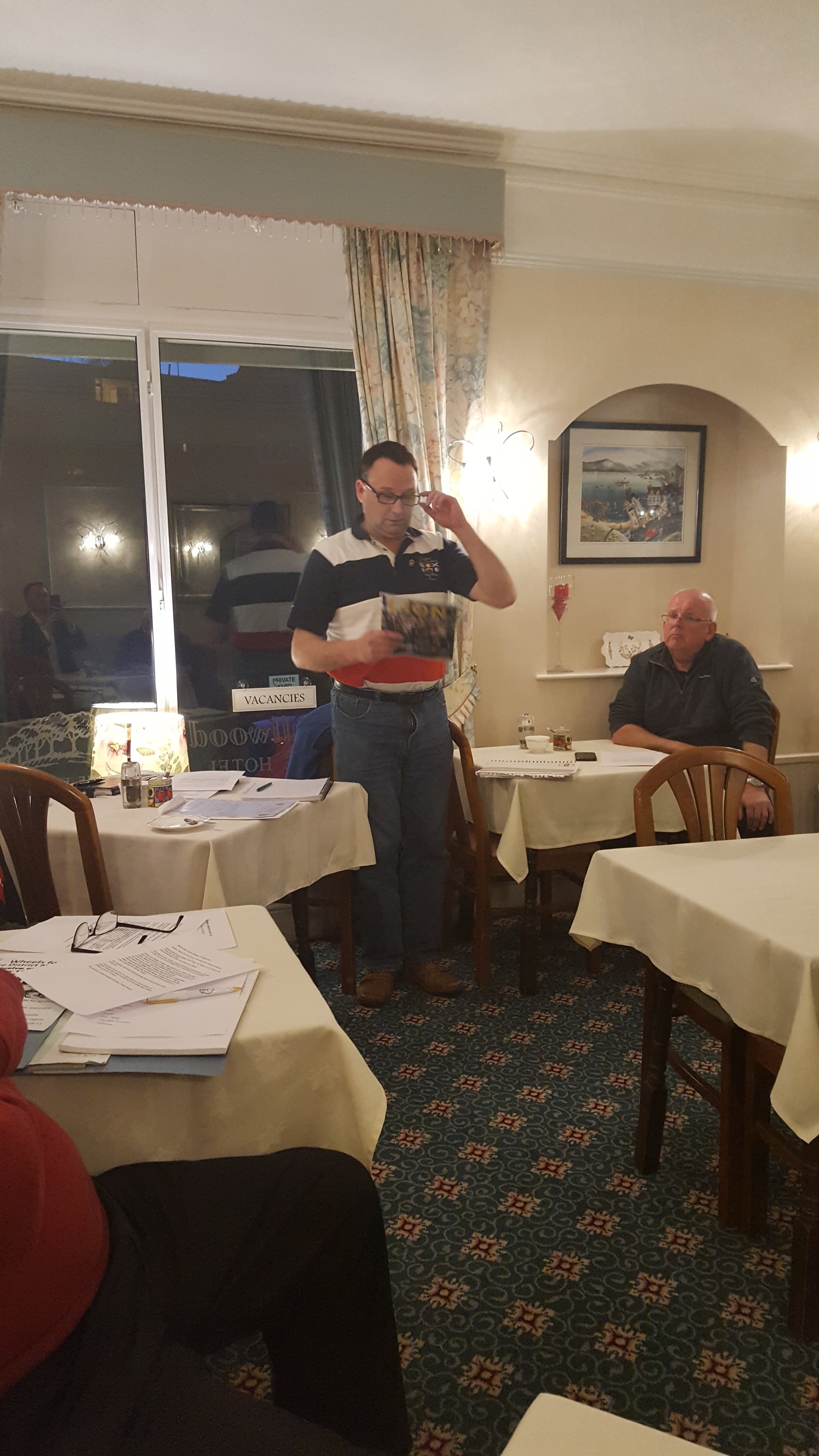 We've lost the wishing well in Bowness. The club will ask Chris Amos to write to Windermere Town Council to try and find out what's happened to it.
Under membership I was sorry to tell the club that I would not be able to carry on as a Lion going forward due to my commitments elsewhere. I told the club I would still like to help at the car show and jingle bell jog. You will have another blogger from May onwards, I hope they can spread joy to you going forward.
Peter told the club about some great publicity the club will be getting you going forward. Where we had supported the refurbishment of three phone boxes into defibrillator boxes we will have thanks engraved into the glass.
The club is having a member treasure hunt starting at Lakes School and finishing with a pub dinner.
The Damson Dene is hosting two events for the club. Including a luncheon on 2nd July for the handover.
Fell mk1 showed us two new banners for the new bouncy castle including a massove red one. I'm sorry I missed the opportunity to take a photo when he was holding it and instead got one of Keith and Anthony rolling them back up.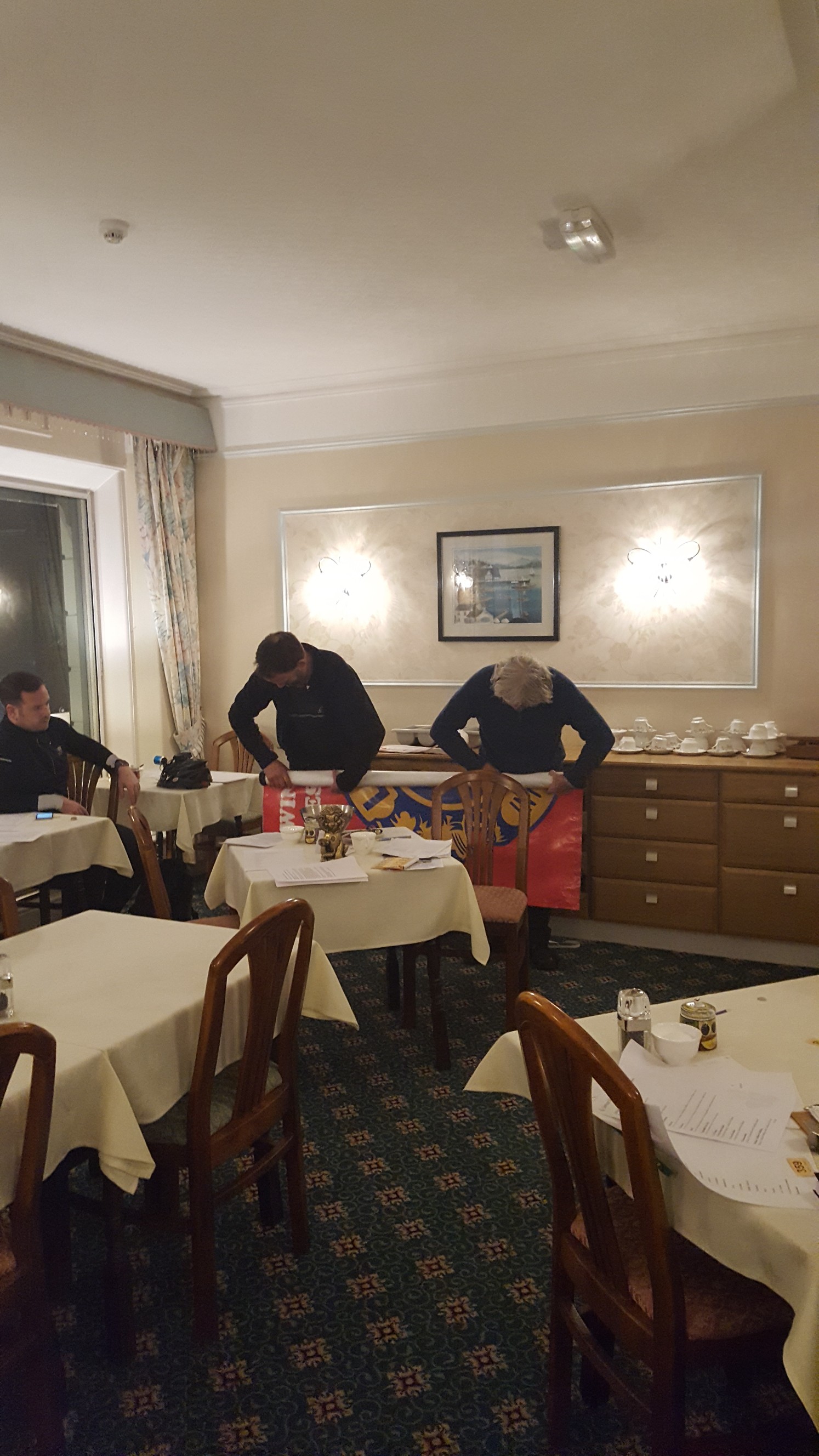 For the raffle young Chris brought a chocolate Lindt rabbit. Which was won by Fell mk2 and Fell mk1 lost to bring the prize for next month.
Under any other business El Presidente Steve told us that the club can't be sure that the Hydro will be open for our next meeting so we will be back at The Smallwood.
Our guest Trevor thanked the club and said he had taken some great ideas to take back.
Young Chris has been doing very well having raised close go his target of £2000 for the London Marathon. It was proposed that instead of just his running gear he should instead wear the Lion suit. I'm writing this on my phone and bizarrely it insists that I couldn't possibly be writing "Lion suit" and must mean "Lion s**t". I have to override my phone to make sure it doesn't swear in full glory!!
Under tailtwister Chris and Keith for fined for being late. Chris said he didn't hear the hammer come down, but that was because he was down the road. Thea was fined twice for swearing and not bringing beer. Then Anthony said he wasn't fining me but that I should hand my badge in which of course I wasn't wearing. Young Chris said that not having the badge meant that I should indeed be fined, which I was.
With a toast of all the best to myself and to Lions Club International the meeting closed at 21.36pm.