This month i have started writing the Blog with Lion Baby Quinn on my lap – he is dictating the content of this Blog into my ear – therefore i think this will be the most intelligently written and eloquent Blog posting yet! It is amazing how opinionated he is – i wonder where he gets that from…ahem (Laura "Sponsorship" Courty)
Our new Lions Club President Philip Fell opened the meeting promptly and welcomed us all – he is clutching his new Gavel tightly and I think he intends to use and abuse it!
Here is a picture of our new president: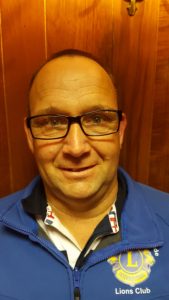 I (Chris Burstow) am The Vice President ("The Veep") this year – so will be be trying to prize the gavel out of Philip's fingers this time next year!
In his president's welcome message Philip thanked Anthony for his efforts organising the Car Show – and thanks to Laura for the amazing job at finding us lots of sponsors for the Car Show – it was a fantastic event on Sunday 19th June and im sure Mr MoneyPenny will inform us how much $ was raised – we all have high expectations!
Apparently Laura and Anthony will be popping in and out of the meeting all night – I'm not sure why (I'm too busy typing to remember!) – and just as I'm typing this Elsie arrived – only slightly late – its great to see her back at the meetings! She is the TailTwister – so i hope she fines herself for being late to the meeting!
Welfare – Noel has looked into whether we could run a Prostate Cancer awareness programme – or we could offer a donation to the Prostate Cancer Research charity. Noel suggested the club may like to do a "Full Monty" for Prostate Cancer awareness – although there weren't any volunteers for this.
Thia took the opportunity to wake us all up with an almighty sneeze – and then Lion Andrew arrived promptly afterwards (I can't confirm 100% that these two things were connected at all – perhaps it was an elaborate signal…)
In Communications Secretary Christoph relayed that Rotarians from The Stowe had attended our Classic Car Show and complimented us on the show – they liked it so much that they were going to organise one of their own – so watch this space residents of Stowe!  Lots of communications from the Public and Car Show Exhibitors on the outstanding organisation of the Car Show.
Philip hit the Gavel on the table again
Mr MoneyPenny next – his first comment was that the Business Meeting agenda is all in the wrong order – the treasurers report should come before Welfare – just in case we are committing to spending money that we haven't actually got!  He told us about Income from the Car Show and the Grenfell Tower Fire collection bucket from the Car Show – and detailed outgoings for Petrol, New Trestle Tables, Electricity for the Lions Den, Raffle Prizes and Limoux Gifts. There was an argument about Keith not being able to add up – but i suspect that isn't true !  He reminded us that Club Subs are now due – £40 is due from each member for this year's membership! Shortly after Chrisoph handed My MoneyPenny a dodgy-looking carrier bag full of old coins and notes – I think he must have been looking down the side of his Auntie Gwen's sofa for the past 50 years. Christoph is happy for us to put this in which ever account we like – so it was voted this should top up the Admin Account. The Grenfell Tower Fire collection was topped up to £150 and we all voted that this will be sent directly to this very current and worthwhile charitable cause.
Philip hit the Gavel on the table again
Fundraising
Lakes Classic Vehicle Show – This month was the Lions Club Annual Classic Vehicle Show – Peter circulated the Car Show Accounts for 2017 – which is showing an interim balance of £9,500  profit – but this is expected to rise when Peter counts the final coppers – which is an outstanding achievement and the largest profit from this event yet. Donations will be made to the Blood Bike Cumbria and the Langdale Mountain Rescue. A huge thanks to everybody for all of their efforts – especially to Laura for her efforts on sponsorship, and Thia for her bunting, which made the event look amazing!  2,000 visitors, 300 classic exhibits, excellent catering and entertainment, and brilliant weather! Next year the Classic Car Show will take place on Sunday 17th June 2018 – so save the date!
Bouncy Castle – Lots of bookings for our new Bouncy Castle – too many dates for the Club to handle – we need some more Lions Clubs members!!
Zone Fun Day / Lions Festival – The Club will be running a Tombola, Bouncy Castle and a Pot Shy on the Glebe during the Zone Fun Day 29th / 30th July , 5th / 6th August & 12th / 13th August – the Windermere Lions will be joined by other Lions Clubs from within our Zone.
Wishing Well – The Club used to have a Wishing Well in Bowness – which was removed when the public toilets were renovated. Lots of discussion was had about whether it was worthwhile replacing it (vs the cost of building a new Well)- and if so, where it would go. No decision was made – although some members are going to scout around Grasmere to see if there were any potential sites.
Membership – The Club is dwindling in numbers and we are desperate to find some new blood to join us! If you are reading this Blog posting then you obviously have lots of spare time on your hands – so please get in touch with Christoph Amos our Club Secretary for a chat – and to perhaps come along to our next meeting and see what you think! The time commitment does not need to be huge – our Business Meetings are on the first Tuesday of each Month – we have fun Social events you can attend if you wish, and a good number of Charity Fundraising Events that we need assistance with!
Philip hit the Gavel on the table again
Social – The Lions Club had a lovely lunch at the Dasmon Dene hotel for our President's Handover on Sunday. Everyone enjoyed the meal so much that we have booked the same venue for our Club Charter in September.
In the raffle Noel won his own prize, and our resident Tail-twister Lion Else handed out fines to various Club members for various misdemeanours – including herself for being late, to Andrew for being late also – and to Thia for sneezing loudly!
Lion President Philip closed the meeting with a Toast to Lions Club International – and by hitting the Gavel on the table one final time!