So I was totally late… I decided if I was going to be late I might as well get a drink from the bar. My excuse was I was on French time.
What I interupted was a talk on Leonard Cheshire Disability.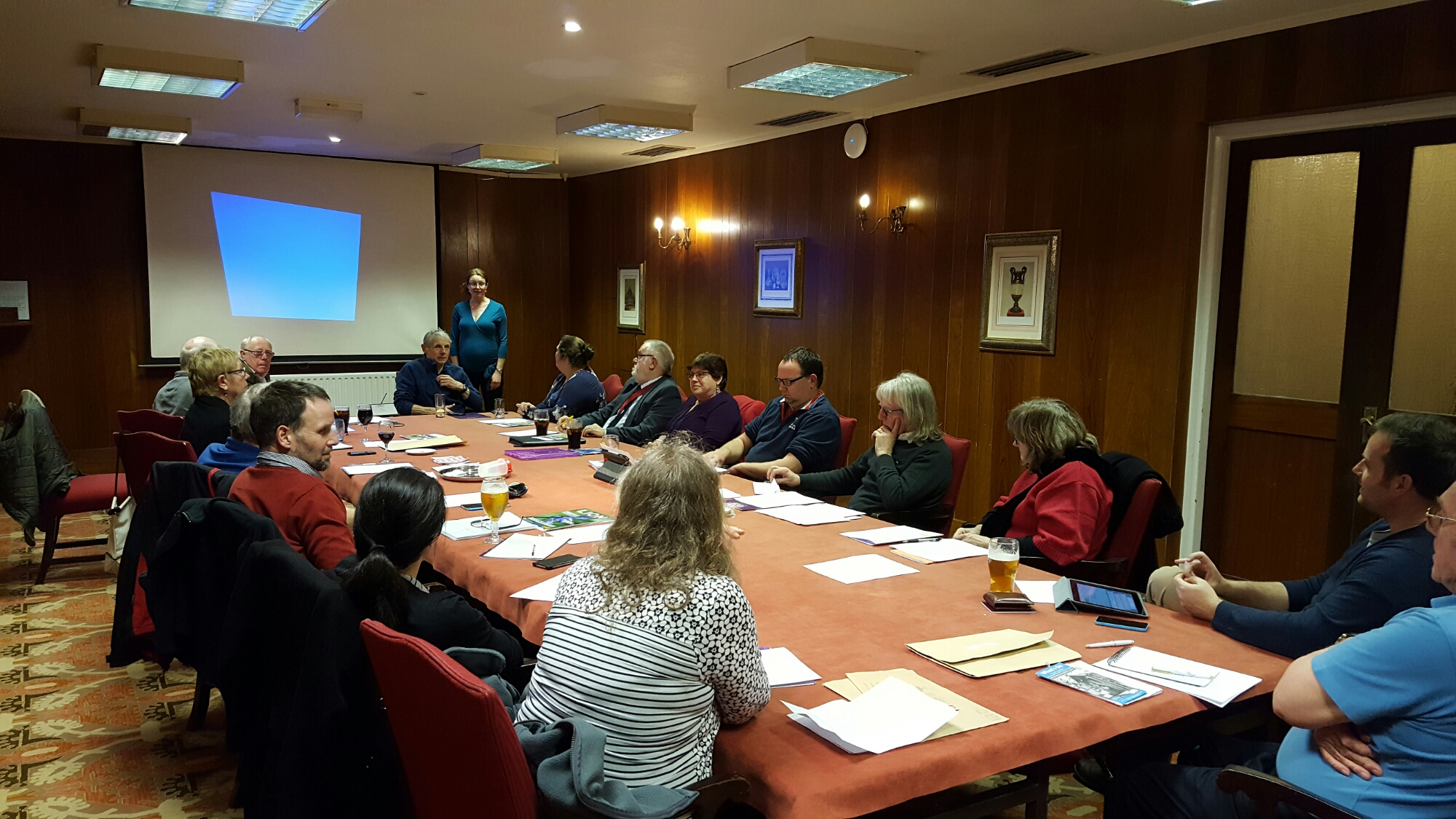 A fascinating history of Leonard and his personal and charitable work including the history of the Leonard Cheshire Homes. What I hadn't appreciated before was that there were so many! I had wrongly thought it was only our Leonard Cheshire Home near Troutbeck Bridge. Not only is Leonard Cheshire worldwide but there are 170 services in the UK including a centre in Kendal and Barrow. Leonard Cheshire need help in fundraising, volunteering and attendance at events.
On treasurers report we had income from classic vehicle show entries and the Jingle bell jog. Outgoings we had entry to a seven a side tournament (I'm 99% sure it's not for members of the club!!), an advert in car show magazine, rent for the Lion's store and storage bags for the santa suits for next year's Jingle bell jog. We also received 92p interest.
Lion old Chris talked to Kaye Pow from Windermere Youth Project about their running costs and how the Lions might help them meet their costs. A donation was carried.
Lion young Chris told us about how Douglas Dale had completed over half his sponsored swim that the club has supported. He will update us as it progresses.
Noel told the club about how Matthews Benjamin are raising money in memory from David Benjamin who lost his battle to skin cancer last year. The club resolved to make a donation to Rosemere Cancer charity.
We received an update on the seven a side details. Basically we are sponsoring the under 14's Ambleside team with kits and a bus to a tournament. Which answers the question as to whether it is the club in the team or not!
Brathay are having cake by the lake on 4th September but we don't have all the details. But the bouncy will no doubt be in attendance.
As previously mentioned the Bouncy will also be at the Low Wood No Wood Cardboard Boat Race on the 14th May.
The Classic Vehicle show that the club organise is progressing at pace and everyone is very excited at how it is developing. Chairman Peter said they had a committee meeting on April 20th but no one else thought they did and on closer inspection of his handwriting Peter realised the meeting on 20th April was in fact for the bowling club.
Sunday 4th December 2016 is the confirmed date for the Jingle Bell Jog! Last year went fantastically so next year should be even better.
The festival and carnival on the Glebe will be happening on the weekends 30th July to the 14th August 2016.
On membership we welcomed Laura who we hope to join the club. We know we won't put her off because she knows us too well already.
We also welcomed Zone chairman. He mentioned some regulations, the re zoning and the national convention is in Chorley.
On twinning we discussed our fantastic meet up with Limoux club from France. It went very well and we are looking forward to working together with them.
Peter brought a prize for the raffle which was won, in a bizarre twist by a tray, but then redrawn and won by Noel. Elsie won the losing draw to bring in next months prize.
The charter will be on the 18th September possible at the Salutation in Ambleside. The changeover will be on the 3rd July possibly in Windermere.
We then discussed upgrading our marquees. As they are in constant use we need to look very closely at what to buy.
In any other business Ben said he wasn't sure if he had petrol to get home because he had rushed from Morecambe having sent a toy dog into space. He also proposed to rename the store into the Lions Den.
Old Chris said that on the 9th April snap bands will be give out to local children. Maggie thinks it's the 11th. Peter said if it is on the 8th he will come. So Chris doesn't know what he is talking about and I don't know where Peter will end up.
Lisa mentioned the Tour of Britain of passing by and we should put some strategically placed banners to high jack some coverage. Young Chris confirmed the date as 5th September. Lisa also asked about trees. Philip said trees should be planted in months with an R but this was challenged. A discussion on trees went on for some time. Hopefully we will plant some at some point.
Noel told the club about how 10,000 bunnies were killed on Easter weekend in New Zealand including by Lions Club members.
Anthony was reminded by the shooting of bunnies that there is another club in Canada that have a car show and would like to support us but can't because they are some distance away. Anthony also defended scarring Laura's children. Young Chris acted as judge in the ensuing family fued to much laughter.
Steve reminded us who was coming next month, but I missed it so I'll find out next month and so will you!
Fined this evening by Tail twister Chris was Chris for forgetting the tail twisting collection device, Ben for having two badges (trying to make up for never having one), Anthony and Keith for drifting off, Young Chris for asking what drifting off meant, Laura for being chirpy but then didn't bring any money for the fine so Anthony got fined instead, Ben again for animal cruelty and finally Maggie for being too nosey.
The meeting finished early for the first time ever!